Help options for XactPRM
There are a number of options available if you need help with XactPRM as shown in the help menu for XactPRM. In this document we'll walk through each of these options.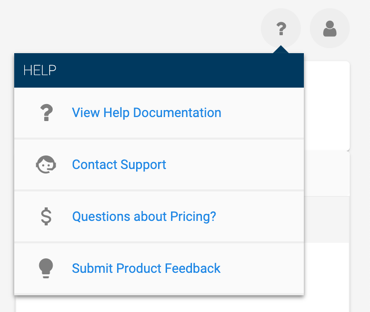 View Help Documentation
Based on the fact you're here, there's a good chance you've figured this one out already. At help.xactprm.com you can view self-help resources to ensure you get the most out of your XactPRM experience. Not sure where to begin? Try the XactPRM Overview video or the Creating an Estimate outline.
Contact Support
For support with technical issues, please email support@xactprm.com at any time. You can also call 866-790-7709 ext 2, Monday-Thursday, 9AM-6PM or Friday 9AM-5PM Eastern Time. Stay tuned for an upcoming expansion of our support hours.
Questions about Pricing?
Some of the most common types of questions are related to the XactPRM line items themselves—what line item you should be using or what is included within a line item, as just two examples. Have a question along these lines? Click this link to email our pricing team directly. Alternately, you can speak to our pricing team directly by calling 1-800-932-9228 and selecting option 4 (exchange pricing information).
Submit Product Feedback
Have a great idea for how XactPRM can be improved? Or want to see and vote on other users' suggestions? Navigate to ideas.xactprm.com and input the email you use for XactPRM to view our feedback portal. Make your voice heard!
---
---